With Sugar on Top
&
Slushbox
are a duo who will be attending Atomic for the third time. I dig 'em, obviously! Here are some cool tiddybitties about these two: Amanda, from With Sugar on Top, not only runs her D-I-Y bizness, but she also has a cupcake/bakery company AND she runs Stitch, another holiday bazaar in Delray Beach, FL...she also happens to have some of the sweetest tattoos ever. JR of Slushbox is an amazingly talented artist who is too incredibly humble and really could be an obnoxious bad ass if he wanted to, but he's not, he is down to earth and funny as hell. For the third year in a row, I will continue to say, if you want a good laugh, read
JR's bio here
, because it is one funny piece of reading material. Oh, and they are getting married this Halloween...too f'in cool for school!
With Sugar on Top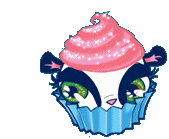 Vintage Gumball Brass Heart Bracelet
Per, Amanda, "this piece is a mix of my two favorite things vintage and sweetness!" Hand poured resin and sprinkles into 5 vintage brass hearts to create this sweet lil bracelet! Adjustable in length with the chain. "So sweet it reminds me of a vintage gumball machine!"
I'd have to agree, this bracelet is adorable!
Broke
(check out the link above so you can see the detail!)
My car had to go into the shop yesterday. I am working a few jobs at the moment just trying to make it and the above painting speaks volumes to me at the moment...
Leaving Las Vegas
I am a huge fan of Slushbox t-shirts. Comfy, entertaining and colorful. May I stress again, the hell with Targetti, Wal-farts, K-Merts and all the others who have decided to sell "cool t-shirts." Pul-leeze Lou-eeze, come to Atomic and pick up a true original t-shirt from Slushbox.